Launched in 2015 by the Ministry of the Economy, and managed by Luxinnovation with the support of Technoport and the Luxembourg-City Incubator, Fit 4 Start has become the leading programme for launching and accelerating startups in Luxembourg.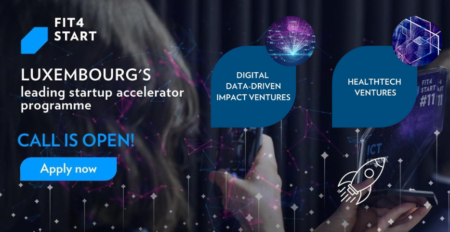 Startups operate in the Digital/Data-Driven and HealthTech sectors are welcome to apply and join Luxembourg's leading startup accelerator!
Deadline: September 19, 2022 (12 pm CET)


Join Luxembourg's leading startup accelerator!
Fit 4 Start targets digital/data-driven ventures with innovative technologies at the core of their business: the internet of things, blockchain, big data, artificial intelligence, machine learning, robotics, cyber, telecom, open-source technology and/or emerging technologies.
A dedicated track offers places to healthtech startups.
In edition 13, the programme provides support for startups that combine the potential for commercial success with the United Nation's 17 Sustainable Development Goals and/or sustainable development in general.
Fit 4 Start provides entrepreneurs with intense coaching, attractive pre-seed funding and access to key networks.
Over 2,300 start-ups have applied to the previous editions of the programme. Over 130 Startups have been coached, a total amount of more than €10 million of equity-free funding has been distributed.
The call of Fit 4 Start#13 will open until 12 pm (CET) on 19th September, 2022.
---
【Qualification】 
Who can apply for Fit 4 Start?
All startups involved in Digital/Data-driven ventures with a core focus on sustainability
All startups involved in HealthTech ventures
【Benefits from Fit 4 Start】
Personalised coaching by startup experts
Up to

EUR 150 000

in equity-free funding

Free access to

co-working space

in Luxembourg
Access to Luxembourg's petascale

High Performance Computer

(HPC)
Valuable networking & financing opportunities in Luxembourg
To find out more about the programme, please visit www.fit4start.com
---
【Description of Sectors】
Digital/data-driven impact ventures
Targeted ventures typically operate in:
Automotive & Smart Mobility
Logistics & Supply chains
CleanTech, Eco Tech & Energy
FinTech & RegTech
Industry 4.0 & Manufacturing
HealthTech ventures
Targeted ventures typically operate in:
Digital therapeutics
Digital diagnostics
Remote monitoring or care
Medical devices
In vitro diagnostics
---
【Preparation for the application】
An up-to-date video pitch of 1 minute max. (addressing Problem vs Solution, etc.) You will be asked to provide a link to this video.
Information on your value proposition, business model, target market(s) and competition.
Presentation of your team, relevant backgrounds and experience.
Different financial information and budget overview (in tabular form) on how you intend to use the funding within the scope of Fit 4 Start.
Here is the "5 tips for a good elevator pitch"
Note: The Application forms in "Download" section below are only for reference. Please go to www.fit4start.com to APPLY. Thank you.
---
【Fit 4 Start # 13 Programme Timeline】
| | |
| --- | --- |
| Call for applications | August 22 – September 19, 2022 (12 pm CET) |
| Announcement pre-selected startups | September 30, 2022 |
| Pitching sessions for pre-selected startups at Arch Summit | October 26 & 27, 2022 |
| Announcement selected startups | October 27, 2022 |
| | |