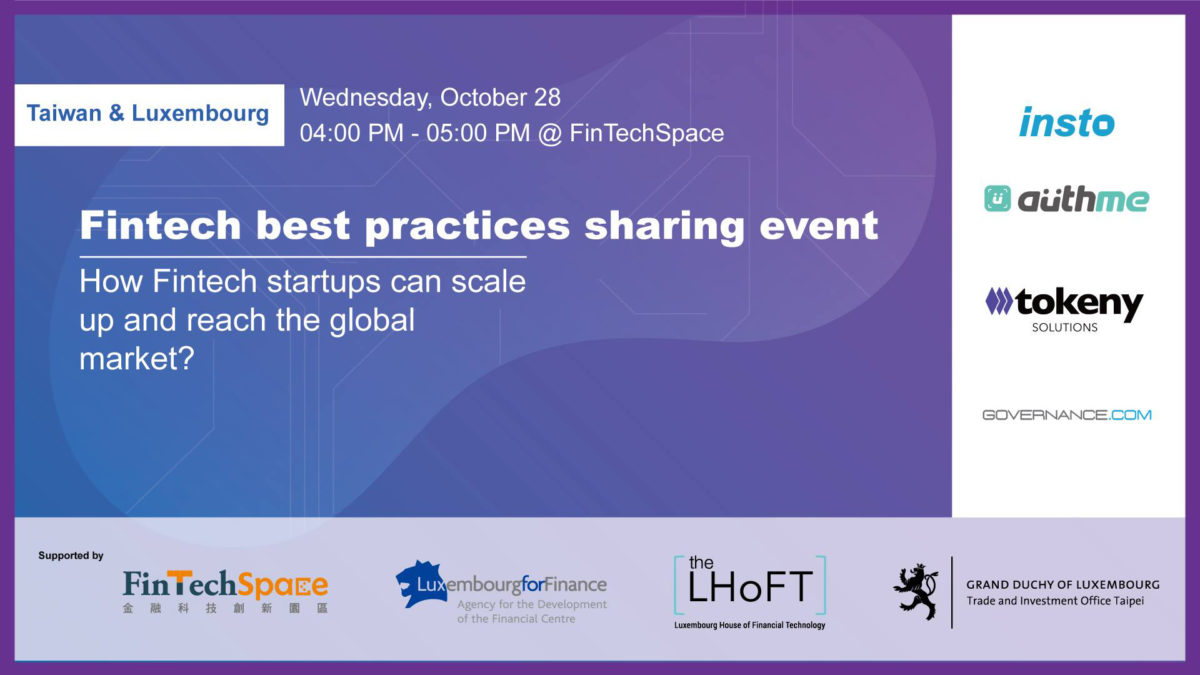 On the occasion of FinTech Taipei Forum, this event will showcase the FinTech ecosystem in Taiwan and in Luxembourg. FinTech startups INSTO, AuthME, Tokeny and Governance.com will also share their best practices on how to scale up and reach the global market.
Join us for this unique event with industry experts in Taiwan and in Luxembourg.
Date: 2020/10/28 (Wednesday)
Time: 16h00 – 17h00 (Taipei Time)
Location: FinTechSpace (13F, No.1, NanHai Road, ZhongZheng District, Taipei City)
Registration Link: HERE
Agenda
This webinar is brought to you in collaboration with
FinTechSpace
Luxembourg for Finance (LFF)
The Luxembourg House of Financial Technologies (LHoFT)
Luxembourg Trade and Investment Office, Taipei
Should you have any question, please feel free to contact Luxembourg Trade and Investment Office, Taipei.
Email:assistant@luxtrade.org.tw 
About Collaboration Partners:
Luxembourg for Finance (LFF) is the Agency for the Development of the Financial Centre. It has been founded as a public-private partnership by the Ministry of Finance and the industry associations representing the different sectors, as well as the Chamber of Commerce.
LFF's objective is to contribute to the development of Luxembourg's financial services industry by helping to explore new markets, geographically and thematically, to attract financial institutions to Luxembourg and be the spokespeople for the financial industry abroad.
Тhe LHoFT Foundation (LHoFT) is a public/private national Fintech platform dedicated to federate and foster innovation within Luxembourg's financial services community, ensuring its future competitiveness. The LHoFT serves as a soft-landing platform for Fintech that are looking to launch their activities in Luxembourg. Beyond incubation, the LHoFT creates value for the entire Luxembourg FinTech ecosystem: financial institutions, FinTech trailblazers, IT industry, research and academia as well as regulatory and public authorities.
Tokeny is a Luxembourg based company that provides services tailored towards the issuance and management of security tokens. Tokeny solutions leverages distributed ledger technologies to manage the tokens issuance and lifecycle, and enables the subsequent transactions between issuers and contributors. In 2019, it received the investment of €5 million from European stock exchange Euronext.
Governance.com is a RegTech company based in Luxembourg and the Netherlands. The company provides Digital Governance solutions that enable financial institutions to understand their data, automate their process and record their actions.
Governance.com was recognized as one of the 50 hottest European FinTechs alongside unicorns such as Revolut, N26 and Monzo. It was also listed two consecutive years as one of the most innovative RegTech companies in the world by FinTech Global. Today, Governance.com serves Tier 1 banks and asset managers in Luxembourg, Ireland and Switzerland.