On the occasion of TASS 2022, Luxembourg Trade and Investment Office Taipei was pleased to present new solutions and concepts from advanced green steel technologies developed by global leader Paul Wurth S.A., as well as sustainable living consumer products, including selected winner projects from the Circular by Design Challenge, which is managed by Luxinnovation with the support of the Luxembourg Ministry of the Economy.
Luxembourg has positioned itself internationally as a circular economy (CE) hub, raising its visibility through a series of initiatives over the last few years. Their shared aim is to raise the circular profile of Luxembourg companies as well as attract the investment and technology needed to accelerate the circular economy, and to foster international collaboration.
Indeed, thanks to its good social, institutional, and economic connectivity, as well as its high-performing ICT and financial sectors, Luxembourg is a promising testbed for emerging CE business models.
By supporting new business activities, setting standards, promoting the circular economy concept beyond its borders, and in close collaboration with international partners, Luxembourg can establish itself as a center of excellence in this new economy.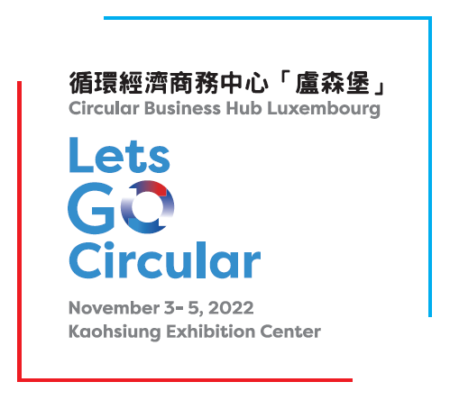 Luxembourg booth presents
Circular by Design Challenge:
Sustainable living consumables:
Roude Leiw Brounekaffi roasts locally with bio-organic farming & Fairtrade coffee beans, offering 100% bio-degradable, 100% compostable coffee capsules
Paul Wurth: State-of-the-art Green Steel Technologies
Luxembourg-advocated sustainable & circular initiatives:
Lët'z Refashion raises public awareness on the social & environmental issues of the textile industry, and promotes Slow Fashion
Product Circularity Data Sheet (PCDS) aims at establishing an official standard for communicating data on the circular economy properties of products, in consultation with other standards organizations.
Learn more from our Youtube channel : https://www.youtube.com/@ltiotaipei
Contact us if you would like to further discuss about sustainable solutions and business opportunities!
Luxembourg Trade and Investment Office Taipei
Tel: +886 2 2757 6007
Email: assistant@luxtrade.org.tw